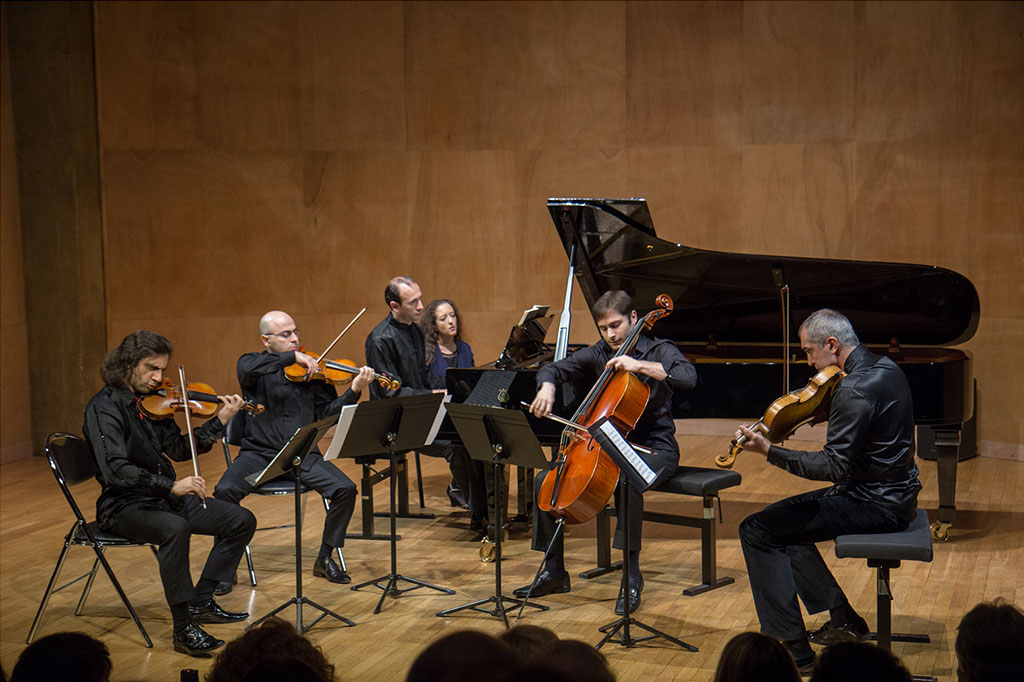 November 18, 2016
AGBU France Performing Arts Department Holds Concert at Salle Cortot in Paris
On October 15, the AGBU France Performing Arts Department held a concert at Salle Cortot in Paris in celebration of the 25th Anniversary of the Republic of Armenia and the 110th anniversary of the founding of AGBU. The concert, entitled "Artists for Artists," brought together nine musicians from Belgium, France, Germany, Portugal and Switzerland to honor both momentous occasions.
In attendance were eminent members of the Armenian and French communities, including Levon Amirjanyan, Minister Counselor at the Armenian Embassy in Paris; Hayk Arsenyan, Director of AGBU Performing Arts Department in New York; Victoria Bagdassarian, Ambassador of the Republic of Armenia to Italy; Hasmik Meliksetyan, Deputy Representative of Nagorno­Karabakh in France; and Pastor Joël Mikaélian of the Armenian Evangelical Church of Issy­les­Moulineaux.
The concert also provided the opportunity to distribute cash prizes and special prizes to the winners of the 2016 Sayat Nova International Composition Competition. Dzovinar Mikirditsian (Lebanon­France) was awarded first prize and Special Prize of the Armenian Philharmonic Orchestra; Alexandr Iradyan (Armenia­Germany) received second prize and AGBU (http://agbu.org/) the Special Carnegie Hall Prize; and Joshua Marquez (Philippines­USA) earned third prize. The jury—composed of international musicians and composers such as Vahan Mardirossian and Vache Sharafyan from Armenia; Jean­Louis Agobet, Bruno Mantovani and Paul Méfano from France; and Alfonso Molina from Mexico—also gave Dohi Moon (South Korea­Germany) a special mention for her submission to the competition. All applicants wrote a piece of eight to ten minutes for the shvi (traditional Armenian flute), string quartet and male tenor with a quote from the poetry of Gregory of Narek. The works of the three winners will be published by the Composers' Union of Armenia's Armusic Publishing House.
The evening included speeches by Nadia Gortzounian, President of AGBU France and AGBU Europe, and Christian Erbslöh­Papazian, Artistic Director of PAD France, who both emphasized the commitment of AGBU to the arts and its desire to transmit Armenian culture. "Our greatest strength is our culture. This is why PAD is important for the influence of the Armenian community in France and in the world, in particular because it promotes exchange between Armenian artists. It is very moving that a community is transformed into siblings to do the most beautiful thing in the world: play music together," said co­artistic director of the concert Varduhi Yeritsyan.
The concert was composed of pieces by Armenian and non­Armenian composers alike, including Babajanian, Brahms, Dvorak, Gomidas and Schumann and featured a special cameo appearance by Tigran Hamasyan, who performed new compositions from his upcoming album. Following this concert, a cocktail party was hosted by the Maison Petrossian for the artists and sponsors of this event, including the law firm Cabinet NAC and the electronics company Menesys. For more information on the AGBU Performing Arts Department, please visit
www.agbuperformingarts.com
.
Established in 1906, AGBU (www.agbu.org (http://www.agbu.org)) is the world's largest non­profit Armenian organization. Headquartered in New York City, AGBU preserves and promotes the Armenian identity and heritage through educational, cultural and humanitarian programs, annually touching the lives of some 500,000 Armenians around the world. For more information about AGBU and its worldwide programs, please visit
www.agbu.org